Philanthropic History
Mr. and Mrs. Green established the Foundation by trust agreement in 1941, and it was re-registered as a non-profit corporation in 1962. The
original trust indenture stated "This Foundation is organized and created and shall be operated exclusively for religious, charitable,
scientific, literary, or educational purposes, or for the prevention of cruelty to children and animals. No part of the net earnings of the
Foundation shall ensure to the benefit of any private shareholder or individual and the Foundation shall not engage in, nor shall any assets or
funds of the Foundation be devoted to, carrying on propaganda or otherwise attempting to influence legislation."
In the early years large grants were made to Westminster College in Fulton to endow a chair in English literature; to the University of
Missouri in Columbia to build the A. P. Green Chapel in the Memorial Student Union; and to Washington University to endow a chair in
pediatric neurology; and for research in neurosurgery. Mrs. Green suffered from Parkinson's disease which inspired over $900,000 in
grants from 1951 to 1971 for research in Parkinson's, mostly in New York and Massachusetts.
Today, because of the many requests, very large grants are seldom made, and medical research is not the area of focus that it once was.
The Foundation focuses solely on programs and projects located or serving clients in central Missouri.
To find more information about Allen P. Green please consult the State Historical Society of Missouri website:
Allen P. Green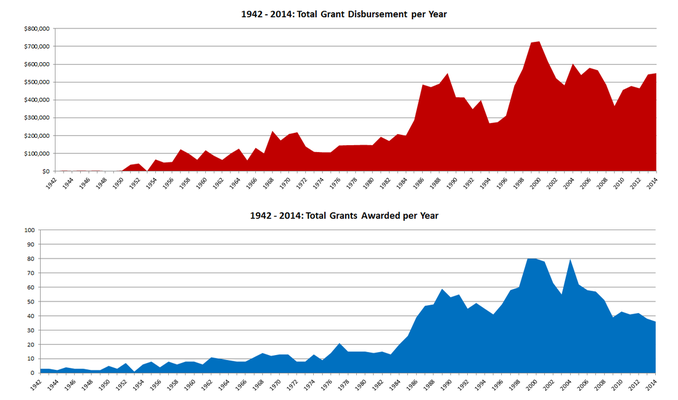 Since inception in 1941 the Allen P. and Josephine B. Green Foundation has distributed approximately $17,500,000 in grants to over 800 different organizations. In the early years, many of the grants awarded by the Foundation were small, but as the Foundation's assets grew its ability to provide support to Missourians increased significantly.

Since the Foundation's partnership with the Greater Kansas City Community Foundation in late 2011 the Foundation has awarded $938,000 to 77 different organizations. The Foundation receives about 100 requests per deadline and provides approximately $450,000 in grants on an annual basis. The average grant approved by Foundation is $12,000.

Early in its history the Foundation provided significant support to organizations conducting medical research relating to Parkinson's disease, but as the Foundation grew its interests became more diversified. Since 2011 major focus areas of the Foundation have included Education, Youth Development, Human Services, and Health Care.

---

The information presented above was last updated on 10/01/2014.